Dr. Julie Anderson

Veterinarian
Dr. Andy Anderson, DVM, CVPP, CVMA

Veterinarian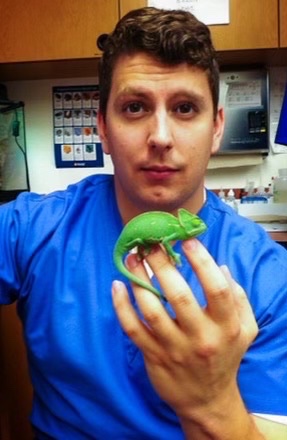 Dr. Andy Anderson, who only shares a last name with Dr. Julie Anderson, is originally from Portland, Oregon but has lived all over the country including Alaska, Wyoming, Texas, Tennessee, Oklahoma, and New Jersey. While his home address changed often, one constant was and still is his love of animals and the natural world. As a child, Andy would look for reptiles and insects outdoors to bring home and care for, foreshadowing his future as a veterinary professional for all types of animals.
He received his veterinary degree from Oklahoma State University in 2013 where he studied with a special emphasis on exotic animal medicine and surgery. Not satisfied with just taking classes on exotic medicine, he spent his free time in the exotic ward of the teaching hospital observing and learning as much as he could.
Dr. Anderson became interested in pain management after realizing that many veterinary patients have undiagnosed and untreated pain. This led to his becoming a certified veterinary pain practitioner (CVPP), a very rigorous five year program involving hundreds of hours of continuing education, writing of case studies, and a final examination. During his pain certification process he also became a certified veterinary medical acupuncturist (CVMA). These two certifications, in addition to his excellent standard of general medicine and surgery have given him the knowledge and skill set to provide unparalleled, individualized pain relief and comprehensive care to all species. Shiloh Vet is proud to have Dr. Anderson as the only certified veterinary pain practitioner in the entire L.A. metro area.
When not at work, Dr. Anderson is a hobbyist nature photographer and enjoys spending time outdoors, often with his husband Jason and their dog Finn, and cultivating his impressive collection of houseplants and orchids.
Dr. Lynsey Rosen

Veterinarian
Info about Dr. Lynsey Rosen.
Breanne

Hospital Office Manager
Breanne has been in the customer service field since 2003 focusing on Veterinary Customer Service since 2008. Breanne has dipped her toes in the technician department at her previous veterinary hospitals but ultimately found that her true passion is veterinary customer service. Breanne met her husband in her first veterinary hospital in 2010. They married in 2013 and welcomed their daughter in 2016. Breanne currently shares her home with her husband and young daughter along with her pitbull Luna, and Chihuahua Alex.
Melissa

Lead Technician Assistant
Melissa joined the veterinary field in 2011 and joined the Shiloh Veterinary Hospital team in 2019. Since starting in the field Melissa's says she is a sucker for sick and unwanted animals and as a result, she has taken in 3 dogs, 4 cats. 2 tortoises, 1 turtle, 2 guinea pigs, 2 pot-bellied pigs, 8 chickens, a donkey, a bearded dragon, and 5 goats. In addition to her many fur babies, Melissa shares her home with a son who is her "mini-me" who shares her love for animals, and Michael who is learning to love all the animals she brings home. Melissa's favorite part of her job includes surgery and working with the farm animals/exotics and she loves working with all of our rescues.