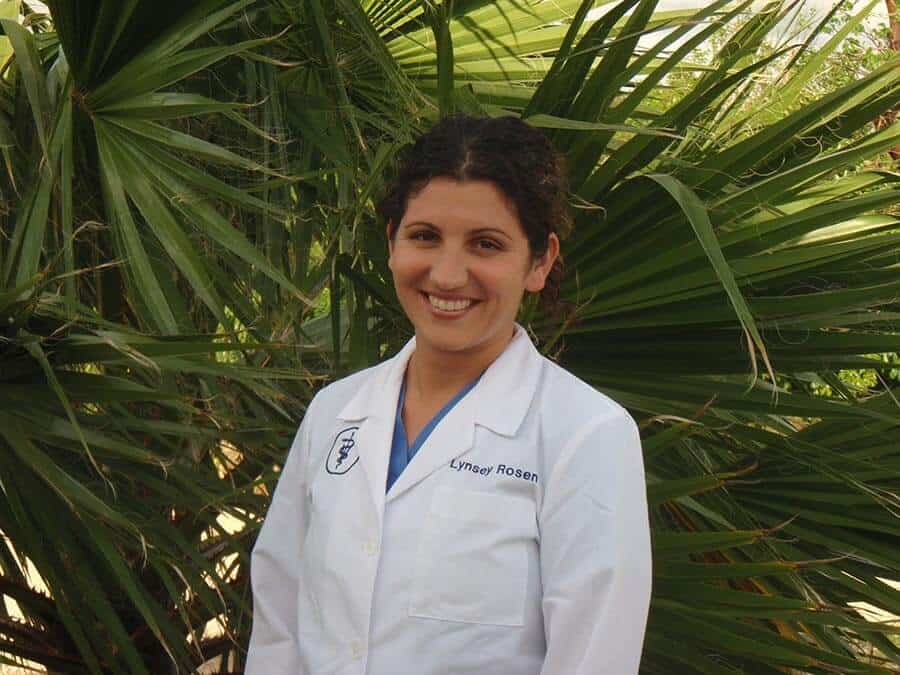 Dr. Lynsey Rosen
Dr. Lynsey Rosen is so excited to be back in Los Angeles with her friends and family. She is from Sherman Oaks, and is looking forward to reintegrating into the community she loves.
Growing up, she was surrounded by animals as an avid horseback rider and volunteer with several wildlife rescue organizations. She worked in animal-centered jobs starting in her teenage years and through college while receiving top honors for her Bachelor's degree in Neuroscience and Behavioral Biology from the University of California, Santa Cruz (Go Banana Slugs!).
During veterinary school at St. Matthew's University in the Cayman Islands and North Carolina State University, she participated in sea turtle research and wildlife rescue for aquatic animals. Her post graduate training included a rigorous yearlong internship in small and exotic animal medicine and surgery at the University of Tennessee, followed by an additional year of training in the extremely competitive field of companion exotic animal and zoological medicine and surgery at Oklahoma State University's Center for Veterinary Health Sciences.
Because of her extensive knowledge and training, she was able to take a coveted position as a Faculty member at North Carolina State University's College of Veterinary Medicine where she worked for the years prior to returning to California. To this point, her years in San Diego have been spent working in private practice, treating all animals, including birds, mammals, reptiles, amphibians, fish, and invertebrates.
Dr. Rosen's interest in medicine and love of animals was powerful motivation for her to embark on and complete several years of rigorous education and post graduate training. Her academic and professional accomplishments are impressive in their own right, but it is her dedication to her patients, clients, and veterinary medicine more broadly that make her an exceptional veterinarian and beloved member of the profession.
As an exotic animal veterinarian, she understands the importance of comprehensive care for her patients, and there is no better way to accomplish this than with a mobile practice. It allows an even closer relationship between the doctor, patient, and client, so that all aspects of heath can be addressed.
Wellness comes from a combination of environment, diet, lifestyle, and medical care, and Dr. Rosen is passionate about treating the entire patient. She has a particular interest in pot-bellied pigs, and is currently working on a companion pig medicine textbook. She also enjoys teaching and lecturing on the subject, and helping new vets learn how to see these fun pets in their practices.
In their free time, Drs. Rosen and Anderson spend their time with their daughter, Charlotte, and their handsome dog, Shiloh. They decided to name their new practice after Shiloh because they believe that every animal deserves to be treated with the best possible care, just like their own pet.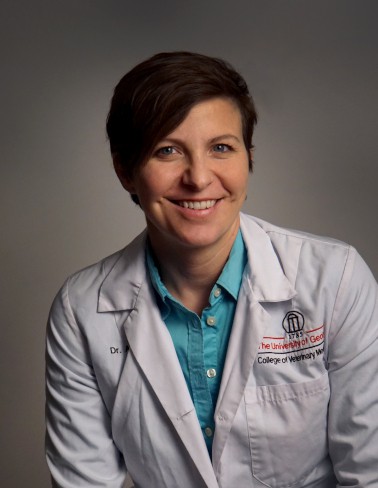 Dr. Julie Anderson
Dr. Anderson is originally from Tennessee and grew up on a farm surrounded by animals of all species. She spent her youth horseback riding and became an accomplished equestrian by her teen years. She spent years training young horses, teaching riding lessons, and managing a large show barn through her college years.
She continued riding and teaching lessons through veterinary school and remains a horse lover today. Her interest in veterinary medicine developed through years of caring for animals in a farm setting and she entered veterinary school with the idea of becoming an Equine practitioner. It was during her time in veterinary school that she realized her passion for medicine and love for animals extended to all species. For this reason, she learned both large and small animal medicine with added courses in exotic animal species as well.
She graduated from the University of Tennessee in 2011, and continued training for an additional year through a rigorous internship focused on small and exotic animal medicine and surgery at the University of Georgia. The strenuous hours, high case load, and extraordinary mentorship of that program gave Dr. Anderson the equivalent of 3-5 years of experience in veterinary practice and ensured that she was more than prepared to start work in private practice.
Following her internship, she worked in Specialty Emergency Medicine at a large specialty and referral hospital in Raleigh, NC. Her love of emergency medicine continued for the next several years and she worked in a similar setting after moving to California. While Dr. Anderson loved the variety of cases and adrenaline associated with emergency medicine, she missed the long-term care for the client and patient provided in day practice. The transition to general practice has been more than rewarding as she has been able to make a long-term commitment to her patients and their families.
Thinking back on her childhood, some of her fondest memories are of when "The Vets" would come to the farm and provide medical care and advice for the horses, dogs, barn cats, house cats, chickens, and even peacocks(!). They examined, diagnosed, and treated the animals while discussing life and work on the farm with the humans. At the time, they seemed like superheroes in their ability to commune with the animals and communicate with the people, showing compassion, respect, and professionalism no matter what the circumstance. Dr. Anderson strives to emulate the incredible knowledge, skill, compassion, and common sense of her childhood heroes.
For Dr. Anderson, as a pet owner, horse person, and veterinary professional, the concept of mobile practice seems intuitive and natural. The appeal of mobile veterinary practice harkens back to her days spent working side-by-side on the farm or in the barn with the incredible veterinarians she knew in her youth—when the pet, their owner, and the veterinarian worked together for the good of the animal and family in the most comfortable environment possible, the home. In today's setting, farms and barns have been replaced by apartments and houses.
The limitations that once affected remote veterinary medicine have been erased by amazing advances in technology. Truly exceptional veterinary care can be provided at home and Dr. Anderson is thrilled to be able to provide that care with Shiloh Veterinary Hospital.